Loyola's Evergreen Players are rehearsing an upcoming comedy about womanhood and growth called "Five Women Wearing the Same Dress." The play is led by student director Sydney Eichel '24, and has a cast of almost entirely women. The play will be running Oct. 26-29 in the Black Box Theater. 
The show is a comedy about the story of five bridesmaids attempting to avoid a wedding reception, slowly realizing that none of them like the bride and that none of them really want to be there.
Cast member Sofia Karras '24 talks about the central themes behind the play.
"If I were to describe it with a few sorts of phrases, I would say 'girlhood' because it really is a story about growth and the importance of women bonding to other women," Karras said.
This play is very much about women, with members of the cast brainstorming themes like "sisterhood," "feminine," and "girlhood" for the show. The comedy is also led by a three-person all-women team. Cast member Meredith Lyttle '24 noted that the importance of the play being women centric is felt by the cast.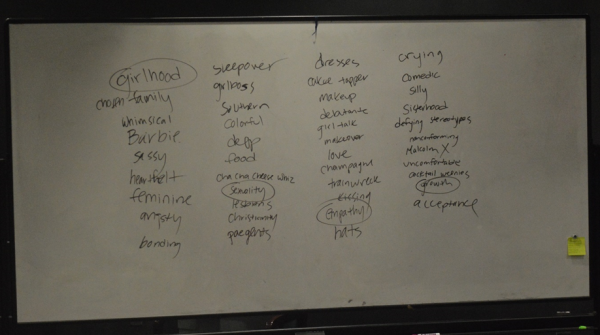 "To be completely honest with you, it's important to me. I feel like there's not a whole lot of that or at least there's not a lot of representation with that, at least for me personally I think that's important. The fact that this is a women-directed, and women-led play– I think it's great," Lyttle said.
While the play is certainly targeting a female audience, director Eichel and others involved felt that everyone could benefit from seeing the play. 
"I feel like the target audience would most likely be young women but also, I think men can learn from this, I think older women can totally relate to this," Eichel said.
The play is different from the usual fall productions because faculty has zero involvement. While it will be difficult to pull off, with every aspect of the production needing to be delegated to someone, director Eichel feels like they will have a successful performance. I asked Eichel what additional responsibilities she and her leadership team had to handle without the help from faculty. 
"A lot of things I never would have expected or that I never thought about: a lot of logistical stuff like budgeting and copyright stuff and reserving rooms, a lot of stuff [I] don't think about when I personally think about the creative process. A lot more boring stuff, but also a lot of things I thought I would never have to do," Eichel said.
You can go see the performance from Oct. 26-29 in the Black Box Theater behind Starbucks. The showtimes are Thursday at 7 p.m., Friday and Saturday at 8 p.m., and Sunday at 2 p.m.. Tickets will go on sale the week before the first show.
"Come see the show, it's going to be awesome. I think you'll learn a lot about yourself and the female experience," Eichel said.
To learn more about "Five Women Wearing the Same Dress" and other productions, you can follow the Evergreen Players on instagram.