Kim and Kanye, Supermodels?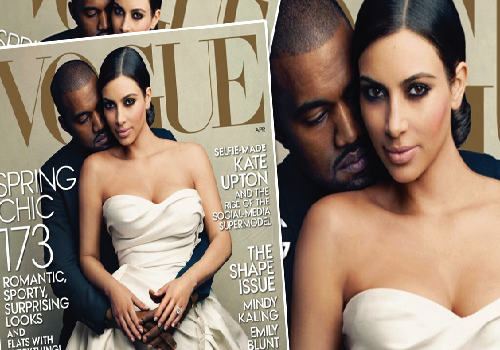 The cover of a magazine is what catches the public eye. When Vogue Magazine started in the early 1900s, the only faces that were put on the cover were high fashion, supermodels.  These supermodels were women who wore sample sizes and knew how to pose in the couture clothes that they were advertising.  However, in 1988 when Anna Wintour took over as Editor in Chief of American Vogue, she changed this "norm".  She wanted to make the magazine more modern, and appeal to a younger audience.  She decided to put Madonna on the cover in 1989.  No, Madonna wasn't a high fashion model, but she was appealing to a lot of young girls and women in the late 80s.  Wintour changed the style of Vogue, and the newest issue is no exception.  When the April edition was revealed last week, mouths dropped.  On the cover were Kanye West and his soon to be wife, Kim Kardashian, adorned in a white Lanvin wedding gown and 15-carat diamond engagement ring.  To say the least, some people had strong opinions, and not all of them were positive.
The headline says, "Kim & Kanye Their Fashionable Life and Surreal Times #worldsmosttalkedaboutcouple" Everyone quickly began to speculate how Kim Kardashian, neither a supermodel nor a movie star or singer was placed on the cover of the worlds most famous fashion magazine.  How could someone so famous for being famous be on the cover of Vogue?  Word spread quickly that Kanye is the reason she is on the cover.  It was her dream, and Kanye used his power and "charm" to fulfill that dream and persuade Wintour.  Though Kim Kardashian isn't your typical fashion model, or Vogue cover model, it will catch the eye of the public, and it already has.  People are talking.  Anna Wintour is making smart decisions for Vogue, and making sure that people are interested in reading and picking up her magazine.  There are an immense amount of people who think that Anna is jeopardizing the integrity and "high fashion", "couture" reputation that the magazine has.  Fashion lovers, and Vogue loyalists are up in arms, but people who never have opened Vogue might just do so, and simply because of Kimye.
Leave a Comment
Your donation will support the student journalists of Loyola University Maryland. Your contribution will allow us to purchase equipment and cover our annual website hosting costs.