An Inside Look at Loyola's Not-so-Secret Society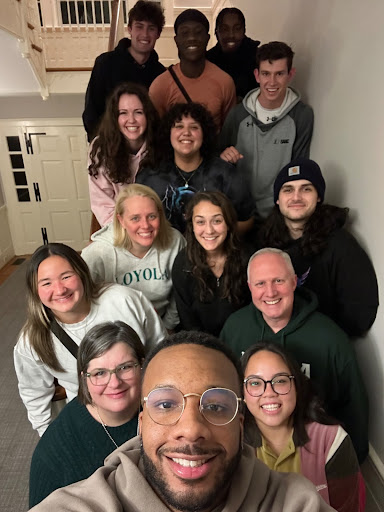 The Green and Grey Society at Loyola has helped create recent change on campus and will continue with its efforts. Some of these changes include improving the Loyola shuttle system's efficiency and addressing concerns with campus police.
Member Alé Terrero '23, is especially happy with the group's effort to bring more halal options to Loyola's campus. 
"I'm so happy we have the Indian restaurant (Choolaah) on campus now. There weren't a lot of halal options before and with a growing and diverse population we really need it," Terrero said.
The Green and Grey Society acts as a direct line between the student body and higher leadership. The group is made up of roughly a dozen seniors chosen by former members and departments of student development on campus. Throughout the school year, the group uses its voice to reflect a variety of wants and needs from the student body. 
Jasmine Diaz '23, a current member of The Green and Grey Society and SGA, is grateful for the opportunity to work with the group. 
"It's a lot of responsibility but it's something I enjoy doing… I believe everyone who is a part of the society enjoys doing it. It's something we're all passionate about, to empower students and help them have that voice," Diaz said.
Since the group has direct contact with high leadership at Loyola, such as President Sawyer and Vice President of Student Development Cady Melzer, the Green and Grey Society can begin the process of creating meaningful change. These changes, however, are not immediate, as there are many concerns that need to be addressed when making big decisions at an institution such as Loyola. 
"Change doesn't come overnight. A lot of the changes we try and push for are things that we are passionate about, but it may not end up happening immediately. It could get pushed down because at the end of the day, Loyola is a business, it's an institution, so budgetary issues need to be concerned," Diaz said.
Aside from helping create change, The Green and Grey Society wants to do more to show its appreciation for Loyola as a whole. This spring, on April 24, the group will host the Student Choice Awards for the first time since the event's five-year hiatus. The event honors students along with faculty and staff who the Green and Grey Society feel deserve recognition for their efforts.
"We decided to come up with new awards to properly honor faculty staff and administrators. It's something to do to honor and recognize all of these people besides students that have done amazing work on this campus beyond the classroom," Diaz said. 
Nominees for the event will be announced soon and those nominated will be invited to the red carpet-style event. While the seniors in Green and Grey Society look to end the semester on a strong note, Diaz hopes the group continues to do its best to better Loyola and recognize faculty and staff. 
"This is a legacy we hope to keep, and this is something the society continues to do to celebrate not just the students but also those that have advised us and helped us become better every day on campus," Diaz said
As the semester comes to a close members of the society are meeting with next year's members that will replace them come graduation, along with working on the strategic planning process. Mairead James '23 values the chance to work on Loyola's future.
"I really appreciate being able to be a part of the strategic planning process even though I'm a senior," James said. "We benefited a lot from our Loyola experience so it's nice to be a part of a process and have a voice through which we can point towards improvements." 
Many current students are unfamiliar with the Green and Grey Society or unsure of what their goal is. While it's viewed by some as some sort of secret society, others are aware of the group but unfamiliar with their mission. 
Nick Vanasse '23 said, "I've heard of them before but I'm not entirely sure of what the group does." Diaz hopes more exposure will lead to more change and a greater Loyola. 
"I really hope students begin to understand and learn to use us more," Diaz said. "I think great changes could come from a better relationship between the society, the students, and higher leadership." 
Leave a Comment