Loyola's First Renaissance Faire In Review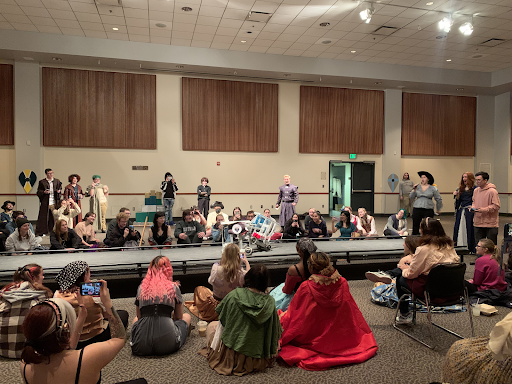 "Open the gates!" The first Loyola Renaissance Faire started with cheers and applause from the crew as the doors of McGuire Hall opened and dozens of guests wandered onto the "fairgrounds". There were many attractions, including the market square where visitors could buy baked goods, chainmail, jewelry, or receive a tarot card reading. Around the outside of the room, there were various artworks including a piece based on the Bayeux Tapestry, but depicting Loyola's victory at the Battle for Charles Street. 
"It was so cool," said Gracie Loeser '25. "You got to really see the Loyola community come together, such a big group of people came to see everyone so excited about one thing."
Many guests came in some variation of typical renfaire garb, meaning there were quite a few contestants for the costume competition. The top three winners were given prizes ranging from a warhorn to a leather armor piece.  
Throughout the two-and-a-half-hour event, there were four stage plays, each a comedic piece taking place in a fantasy realm, all written, directed, and acted by students. There were many bits as well, like the jester in the quad that students could pay to throw jello at. All proceeds went to Relay for Life, raising over 100 dollars!
"It was a really cool experience. It was fun seeing so many different clubs all across campus come together on one project. It brought a lot of different people, a lot of faces I haven't seen before and a lot I had, a lot of different years. The robotics – that was insane," said Vilnis Chakars '25. The robotics jousting (pictured above) was one of the central events thanks to our very own Robotics team. Four robots represented four different houses and jousted to knock cups off the other in tournament style. Robohood (as in Robinhood) of House Seton won the overall tournament.  
"I thought the joust was really interesting. I especially liked watching all the vendors and all the art. It looks like so much time and effort were put into them and I was really excited, especially all the research that people put into making things accurate for the time. It was a great event. So I'm glad I got to go and hope they have one next year," said Patrick Turek '25. 
After the event, I sought out the club president, Michael Berger '25, to ask how he felt about the events of the day. 
Berger said, "Well it was a huge success. We had an amazing turnout, the community seemed really engaged, and our actors and our performances were phenomenal. I've seen that our vendors had a lot of business and we're just really excited at the prospect of what the future holds now. It was a really great day." 
In light of the success of the first-ever Renaissance Faire on campus, The Loyola Renaissance Society looks forward to bringing about a second, third, and many more Renaissance Faires in the future. Make sure to look out for new events on the Bridge and follow their Instagram @loyola_renaissance-society for updates! Loyola's First Renaissance Faire In Review
Leave a Comment